ORIENTATION MEETING WITH MEDIA HOUSES ON TPT AND 3RH IN MANAGEMENT OF CHILD TB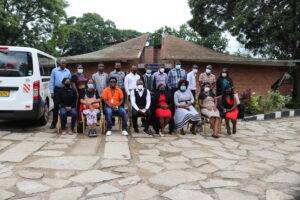 Group photo between FACT, NTP, KNCV, EGPAF and media house representatives
TB continues to be a major challenge in child health in Malawi. Over half (55%) of the estimated 1 million children with TB of age 0-14 years were reported in 2017.  In 2016, Malawi registered 16,959 TB cases and childhood TB made up 8.6% of these cases.
Childhood TB policy is available and the world health organization oversees the implementation of the policy, however affected communities and CSOs were not fully engaged in the policy development process, which has created a gap in the implementation. The policy stipulates the need to diagnose TB in children earlier enough for early treatment initiation using child friendly formulations. The NTP rolled out GeneXpert machines, recommended by WHO as the initial test for pediatric TB diagnosis, which will significantly improve diagnosis of TB in children compared to the old and less sensitive method based on microscopy, however this is failing to reach optimum utilization and scale up due to domestic financing challenges and weak policy implementation mechanisms, compounded by the lack of demand for accountability by the affected communities.
In addition, the Ministry of Health plans to progress the current first-line formulation of pediatric TB drugs to a new, child-friendly formulation. However, additional support is needed to rollout these innovations, including ensuring new pediatric formulations both for active and latent TB infection are ordered, available in clinics and used.
In line with that, FACT is implementing a project with support from EGPAF that aims at strengthening Civil Society Organizations and Parliamentarians in response to effective TB management. As part of the project, FACT organized a training with Media houses with the aim of orienting them on the importance of 3RH and IPT in the fight against pediatric TB on 11th March, 2021 at Grace Bandawe Conference Centre, Blantyre.  This orientation aimed at guiding media houses to better understand the gaps that exist in the country as far as 3RH, and IPT are concerned, especially for children.
FACT then liaised with the media houses on tailored programs that will create awareness on 3RH and IPT, as well as create demand to scale up access to 3RH and IPT. This follows the common knowledge that if the communities affected by TB had adequate information, they would be able to lobby for strong TB policies, adequate resources and the development of effective community-oriented programs, sufficient to address the needs of people affected by TB, particularly children.  It was noted during the training that all media houses have health programs that are broadcasted which was a starting point for the roadmap development.
PROJECT GOAL
FACT proposed to carry out a demand creation and advocacy project to address the gaps that have been highlighted above with the goal to:
Strengthen development and implementation of effective TB policies on management of Childhood TB, TPT implementation and scale up through implementation of tailored demand creation strategies among parliamentary committees, TB CSOs and affected groups by end of the project.
The objective of the activity was to;
Increase Public Sensitization on Covid19 and TB policies, especially 3HR and TPT scale up towards generating demand for services through effective Media engagement.
Media houses which were invited for the training were; Zodiak Broadcasting Station, Times Group, MBC, Nations Publications, Mibawa TV, Blantyre Synod Radio, Transworld Radio, Kuwala Radio, Neno FM, Mzati Fm, Yoneco FM, Chanco Radio, Joy Radio and Capital FM.
By: Wanangwa Sichinga
Public Relations & Communications Officer